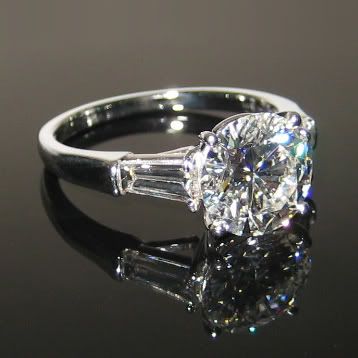 Dear Miss A
 
I don't know if my previous email went through as it dissapeared and is not in my 'sent' mail, but anyway I have an ex that wants the engagement ring back. He lives in DC, me in MD, we got engaged on Xmas 07 in Mass. He paid 20K, full retail for it, I do not know that it is worth that (would appreciate a recommendation where I might get an appraisal)..I ended it after I found out he had been fired from his 2 previous jobs and because after we got engaged he became a lunatic..He verbally said I could keep the ring when I ended it in April 08, but now he wants it back and I fully expect that he will hire a lawyer and try court action to get it back because of his nature..I do not have funds to do the same..I would really appreciate it if you could you please advise me what I can do?
 
thanks
 
Miss M
Hi,
How much do david yurman engagement rings cost? I am not sure what criteria are important. Can you please guide me. Would you consider giving me a couple pointers?
I really appreciate your help.
Thankyou,
Mr. T
I've received several questions pertaining to diamonds and engagement rings recently. I would like to remind all my readers that while I worked in the diamond business I wrote a great deal about shopping for a diamond, and finding the right setting. Feel free to browse through what I have written under the Category, "Jewelry & Diamonds". There is a lot of good information, so remember to use it as a resource. There is also a search box under Categories on the right side of the page where you can do a search.
Dear Miss M,
You should seek the advice of an attorney who knows all the particulars of your situation, as each case is unique. You may want to read the post I wrote about being sued by my ex-fiance for my engagment ring, and his response with an explanation about engagement ring law. Regarding appraisals, some jewelry stores only appraise jewelry purchased in their store. However, Chas Schwartz & Son Jewelers should be able to do an appraisal for you, and they also purchase diamonds, jewelry, and watches. They have two locations – one downtown and one in Chevy Chase.
Mazza Galerie
5300 Wisconsin Ave., NW
Washington, DC 20015
202-363-5432
Willard Hotel
1400 F St., NW
Washington, DC 20004
202-737-4757
Dear Mr. T,
The David Yurman engagement ring prices will vary depending on the setting and center stone that you select, so I can't tell you how much they cost. I will tell you that the settings will cost much more because they carry the David Yurman name. I know a lot of people like Yurman jewelry, but in my opinion it's a trend that has come and gone.
An engagement ring is something that your girlfriend will have for a lifetime, so I suggest making the center diamond the focus, and choosing a simple, timeless design. Especially in these difficult economic times, I would recommend a simple, non-designer setting. Put your money into the center stone, as that is the only part of an engagement ring that holds it's value over time.
As for some pointers on purchasing a diamond, check out Tacori's Gentleman's Guide to Engagement. I'm not suggesting you purchase a setting from Tacori, but the website is well done and very informative. If you would like I'm happy to meet with you at Chas Schwartz & Son Jewelers to give you some tips on buying a diamond. Just send me a message and we can set something up.
Hope this helps you both. Please use the Ask Miss A Now! anonymous form, and let me know your thoughts on my advice and how things go!
– Miss A
Related Articles: