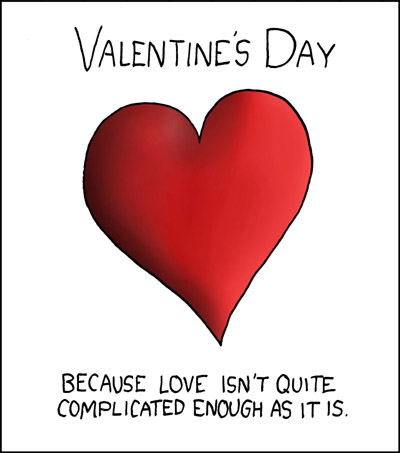 I wrote back in December about being haunted by The Ghost of Christmas Future. Well, every Valentine's Day that I'm single, I'm haunted by the Ghost of Valentine's Day Past. In 1850, in his poem, In Memoriam, Alfred Lord Tennyson wrote:
I hold it true, whate'er befall;
I feel it, when I sorrow most;
'Tis better to have loved and lost
Than never to have loved at all.
Perhaps that was true in 1850, but I think Alfred would have a harder time in 2009! On Valentine's Day back in 1850, Alfred didn't have all the constant reminders that he had "loved and lost" that we have today. Now we have to watch cheesy ads for diamond jewelry from Jared's on TV, and can't buy a gallon of milk without traipsing down grocery store aisles filled with Valentine's cards, heart-shaped boxes filled with chocolates, and more pink, red and white stuffed teddy bears than you can shake a stick at!
Oh, and it doesn't stop there, it follows you to the office where any woman with a man treating her halfway right gets at least a dozen roses. Even those with somewhat misguided boyfriends get a dozen corny-looking carnations, which of course they are almost too embarrassed to carry back to their desk. And you better not even try going out to dinner on Valentine's Day if you're single, the restaurants are packed to the gills with happy couples which makes it next to impossible to get a table, and completely impossible to get through dinner without feeling somewhat lonely and envious.
As a single woman this Valentine's Day, it's hard not to look back on Valentine's Days gone by. Over the years, I've had lots of amazing Valentine's Days with men I thought I was in love with and who probably thought they were in love with me. 37 years gives you a whole lot of experience to reflect back on. I think being single on Valentine's Day is harder when you've enjoyed the holiday as part of a couple. You do know what you're missing. It's not that you're missing a particular guy. You just miss the feeling. You miss being in love.
I sometimes wonder if some of the best times with the opposite sex doesn't happen when both are completely in love with the idea of being in love. Infatuation, Lust and Love are such wonderful natural high's. Is love an illusion or delusion designed to make us procreate? Is it real? Or is what is real love what comes after that "in love" feeling fades? How does love change, evolve and fade away?
I wonder if single women are looking for the right guy or are we waiting for the right illusion to come around? One that we're willing to let ourselves fall into?
All the Single Ladies, remember I told you about what I call "Single Season"? Single Season starts the day after Valentine's Day and ends the day after Halloween. During this time period, you have none of the holidays which typically make it unbearable for singles. This is the perfect timeframe to enjoy being a single! So hang in there! We only have about another two weeks to go!
Please comment below and share your thoughts. Hope you'll come to hear me interview three local authors and discuss dating, love and relationships this coming Wednesday, February 4th at Lotus Lounge!
– Miss A
Related Articles: